CHABAD OF MELBOURNE CBD
wish to invite you to

MINCHA IN THE CITY
AT THE CHABAD HOUSE

Level 3,
343 Little Collins Street
(cnr Elizabeth St)
Melbourne

Monday through Thursday
at 1.15pm

Recommencing on
6th April 2015

Ph: 9525 9929
www.chabad.org.au



Daily Shuir
@ 1.15pm
Level 3 - 343
Lt Collins St
Melbourne
Lunch Served

Advertising space available
Advertising space will be available if you are interested please contact us at chaim@chabad.org.au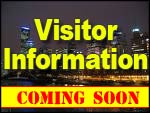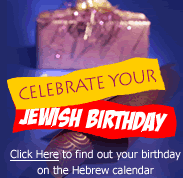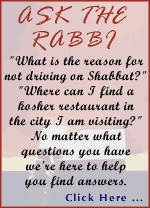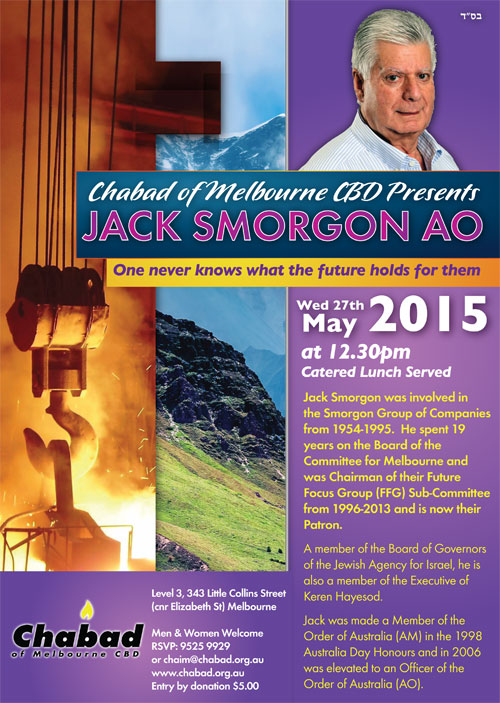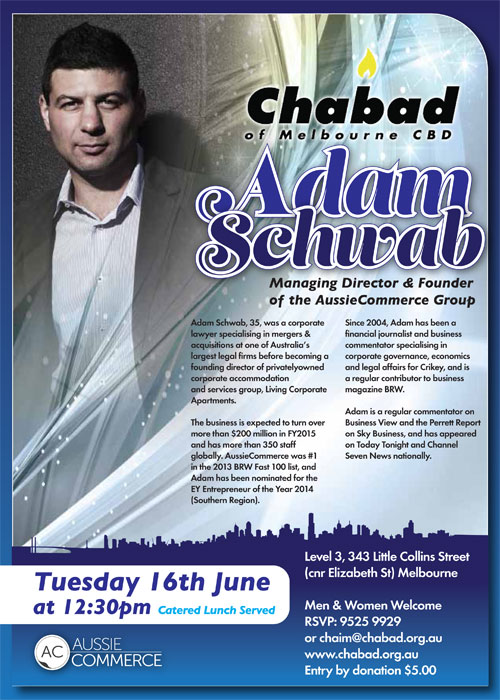 Premier Joins Chabad for Lighting


Victorian Premier Daniel Andrews joined Chabad of Melbourne CBD for a Menorah lighting at Parliament House.

On Tuesday night, the first night celebrating the Jewish Festival of Chanukah, Victorian Premier Daniel Andrews joined Rabbi Chaim Herzog and Chabad of Melbourne CBD in the lighting of the Menorah and Chanukah festivities at Parliament House in Victoria.

Many dignitaries and Jewish community leaders attended the annual Chanukah celebration, including among them well known philanthropists Graham Smorgon and Joseph Gutnick, Victorian Opposition Leader Matthew Guy and the Member for Caulfield, David Southwick and his predecessor Helen Shardey, an avid supporter of Rabbi Herzog and Chabad of Melbourne CBD since its inception over 16 years ago.

Master of Ceremonies, Graham Smorgon introduced the Premiere of Victoria, Mr. Daniel Andrews. In his speech, the Premier acknowledged Rabbi Chaim Herzog and Chabad of Melbourne CBD and what "a very special honour" it was for him to be part of such a celebration, stating that "the Jewish faith gives life to some of the oldest and most powerful traditions in our civilization."

Victorian Opposition Leader Matthew Guy acknowledged that there had been "eight previous such (Chanukah) events organized by both Chabad of Melbourne CBD and the Parliament of Victoria including all sides of the political spectrum."

This year's event was hosted in conjunction with Caulfield Hebrew Congregation and Kew Hebrew Congregation and featured a special performance by renowned Cantor Dov Farkas and guest speaker Rabbi Ralph Genende. The evening also featured the Central Shul Choir led by Didi Levin.

Chabad of Melbourne CBD's Chanukah event in the Melbourne Parliament culminated with its signature cocktail party that was widely attended by the broader community.




Melbourne Dignitaries Enjoy Sukkah Luncheon


Chabad of Melbourne's Central Business District, under the leadership of Rabbi Chaim Herzog, hosted its annual gala luncheon in a beautiful Sukkah under the shade of some of Melbourne's most famous landmarks at Federation Square on Monday afternoon.

An array of local businessman and visitors were graced by the presence of leading Rabbanim and politicians, including Rabbi David Rubinfeld of Melbourne Hebrew Congregation, The Hon. Kevin Andrews MP, State Liberal MP David Southwick and State ALP candidate for Caulfield Josh Burns.

Rabbi Herzog welcomed the crowd in his warm and friendly manner, and tied in the message of Sukkos with the overall theme of connecting with G-d throughout the festive month of Tishrei. The Hon. Kevin Andrews MP (Federal Member for Menzies) honoured the guests with an address which reflected his warm appreciation for the Jewish community and a special message for the Chag. MP David Southwick (Member for Caulfield) warmed the guests in his personable manner and highlighted how the festival of Sukkos encourages religious freedom in light of the fragile security situation around the world.

State ALP candidate Josh Burns warmly addressed the crowd and showed his appreciation towards his constituents by delivering a message of appreciation for the past and hope for the future.

Finally, Rabbi David Rubinfeld regaled the guests with his unique blend of Torah true messages and sense of entertainment. Within a minute of addressing the crowd, he drew everybody into an inspring rendition of the famous "Shehecheyonu Vekimonu Vehigianu" Hebrew song and then continued by delivering a message of hope and encouraged everybody present to appreciate the special obligation and opportunity we have to bring up our children with true Jewish values.

Participants davened Mincha at the end of the luncheon, and much praise and appreciation could be heard from all those leaving at the end of the event.


Is your money really yours?


Is your money really yours? While a capitalist may answer 'yes' and a rabbi may answer, "it's entrusted to you by G-d to be used in accordance with G-d's Directives", the lawyer has another answer. Experienced barrister and community activist, John Searle presented a session on laws of probate and disputed wills. His answer is temporarily; your money is fully yours during your life. Afterwards, a judge has the option to override the deceased individual's wishes in the interest of 'fairness'. The judge can award extra to some, give less than the will calls for to others and add extra people as beneficiaries of the will.

John outlined time limits for applications, principles relevant to applications for an extension of time, the meaning of 'final distribution and 'delay without prejudice' and other topics. The lecture also touched on areas of particular Jewish concern and contrasts with Jewish law. Ably chaired by Rabbi Chaim Herzog, director of Chabad CBD and arranged by rabbi Dovid Leib Shmerling, attendees, both lawyers and lay people were grateful for the interesting lecture.

One comment which expressed the feelings of all of them was, "John's presentation was engaging, clear and relevant. Thank you."



Beth Din Conversion Clarifies its Position

It may be something in the air, but for whatever reason Melbourne has a significantly higher proportionate amount of converts to Judaism than almost anywhere else. The Melbourne Beth Din overseas and sets the standards for all Orthodox Jewish conversions in Melbourne.

The blogosphere and many a Shabbat table have much to say on the conversion process and often query it's length and difficulty. Why should they have to be more religious than the rest of us? She knows the best kneidalach recipe and can read a bit of Hebrew, he's pro-Israel and enjoys lighting the Chanukah Menorah; why isn't that enough?

In truth, the modern Beth din is far more stringent than the guidelines set by the Talmud and Code of Jewish law [Shulchan Aruch]. The Shulchan Aruch describes the conversion process as follows. A gentile arrives and seeks to convert. Rabbi: Why convert? Are you unaware of the persecution of Jews? Do you know that what was until now permissible enjoyment as a non-Jew will become prohibited as a Jew? Convert: I am aware, but nonetheless want to convert. The rabbi then discusses the basic Jewish principle of monotheism and prohibition on idolatry at length, skims through an overview of Jewish law and continues straight on with circumcision [for males] and immersion in a Mikva. Hence, the question seems justified even from a Halachic perspective. Why does the Beth din make it so hard?

Rabbi Glasman addressed this topic to a full room of professionals at a Chabad CBD luncheon. He argued that as most contemporary conversions are originally induced for marriage reasons or other benefits. While in previous eras, it was rare for a Jew and non-Jew to socialize intimately and very rare for a Jew and non-Jew to fall in love, today it is an everyday occurrence. The first component of conversion is a genuine desire to join in to the 'brit', the Covenant that G-d has with the Jewish people. A conversion for any other motive is Halachically questionable. Thus, today a more thorough process then bygone times is needed. A more intense process serves to both enhance the prospective convert's appreciation and demonstrate the applicant's commitment to Yiddishkeit. The Beth Din is not being extra strict in extending the process; they are being lenient in initially accepting most of today's applicants into the process. The audience savoured Rabbi Glasman's thought provoking and eloquent words while enjoying a catered bagel and sushi smorgasbord lunch. Following Mincha enlightened attendees returned to their offices with new found appreciation for the integrity of the conversion process.


Arnold Roth Speaks Out in Melbourne on Isreal

It was an Israel-committed group of several dozen who came to Chabad of Melbourne's CBD's luncheon with Arnold Roth. The topic was "Israel: How true to it's principles can the news reporting industry be in a war of rockets and tunnels?" Arnold's eloquent and informative presentation was accompanied by a tasty and beautifully presented lunch.

Arnold, who has addressed the UN and the European Parliament and has shared an Israeli perspective on leading T.V. & radio stations and newspapers around the globe, is the founder of the Malki Foundation. Established in memory of his daughter Malki, after her tragic murder in a Hamas massacre perpetrated in the heart of Jerusalem.

Arnold shared some insight into problems with your average international journalist reporting on Israel.

When Arnold and his colleagues ask university students studying journalism, "So, what have you learnt about 'Ethics and Journalism?' many are stumped. Others respond proudly, "We covered Plagiarism extensively."

"That's great, journalistic ethics to protect journalists," Arnold observes wryly. The ethics of honest and contextually accurate reporting appears to be a glaring gap in their curriculum.

And this is not just a minor oversight; inaccurate, inflammatory reporting can be lethal. Take the example of Muhammad al-Durrah, a Gazan boy. France 2- a government financed TV station- showed one minute of footage and said that the boy was killed by IDF fire. Many terrorists over the past 12 years have justified their killings in Israel, Iraq and France as revenge for al-Durrah's death. Problem: the raw footage records the 'dead boy' itching his forehead after his 'death'.

Journalists are expected by the public to report the truth. When they don't, their words can be deadly.

Arnold finished with a call to action. Don't wait till you see skewed articles and then write letters to the editor. Rather, explain Israel's narrative and defend it's actions to neighbours, acquaintances and most importantly to editors, producers, politicians and people of influence. Let them report ethically in the first instance.

Attendees left inspired and with thanks to Rabbi Chaim Herzog, Director of Chabad of Melbourne CBD, for arranging this special event.
---
Stropkover Rebbe At Chabad of Melbourne CBD


There was a buzz in the air at Chabad of Melbourne CBD this Tuesday: the Stropkover Rebbe would be addressing heimishe city professionals. Some eager attendees took off work or travelled from Caulfield to be present.

Rabbi Dovid Leib Shmerling introduced the Stropkover Rebbe, noting the long-standing close ties between Stropkov and Lubavitch over the last century and that the present Stropkover Rebbe is a graduate of the Chabad Yeshivah of Lod.

The Stropkover Rebbe's addressed a peculiarity in the Parsha. Rashi says that one should only be 'mochiach' immediately prior to his death. Isn't it sometimes a mitzvah to rebuke? The Stropkover answered that yes rebuke is sometimes a necessity; but 'mochiach' also means to prove. At the end of Moshe's life, with the benefit of hindsight , Moshe could demonstrate that the path of Hashem and Torah are the right path and the good path. And Moshe's words were not only addressed the generation of the Midbar. rather, Moshe was speaking to 'kol Yisroel' meaning all Jews of all generation, for a Tzadik's voice is eternal.

The Stropkover Rebbe also passionately discussed how lucky we are to have such a close loving relationship with Hashem, to the extent that we address Hashem in the second person, "baruch ata'" rather than the reverential third person.

Commenting on the situation in Eretz Yisorel, the Stropkover Rebbe encouraged the Lubavitcher Rebbe's Mezuza campaign and commented that we write 'Shin Daled Yud' on the visible side of the Mezuza. This stands for both Shomer Dalsos Yisroel, which alludes to Hashem's care for Bnei Yisroel and Shomea Divrei Hashem which alludes to Bnai Yisroel's dedication to Hashem.

Fascinated by a long article on the Stropkov- Lubavitch connection, the Stropkover Rebbe prolonged his visit to read much of the article and refused to leave without a copy of the five pages.

Attendees left inspired and with thanks to Rabbi Chaim Herzog the Shaliach for arranging this special event.


---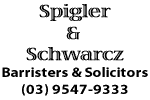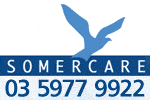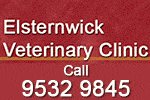 1300 360 644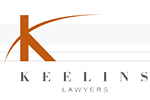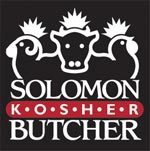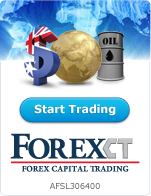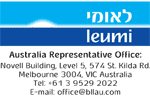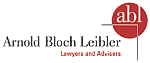 03 9229 9999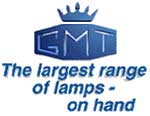 03 9819 1777



Walkaround Pty Ltd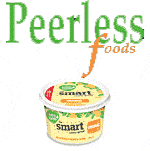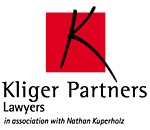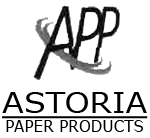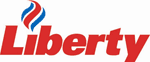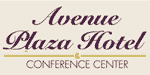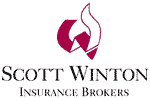 03 8598-9144